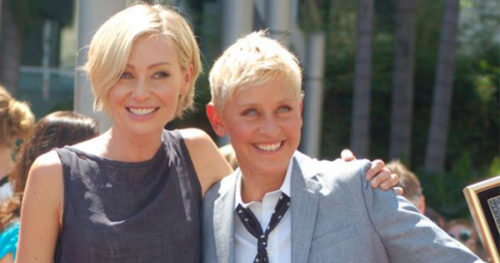 Ellen DeGeneres is on the cover of this week's People and is getting personal about her eight year marriage to Portia de Rossi.
She says they don't take their relationship for granted and make sure to prioritize their relationship by setting aside time for one another every day.
"I'm grateful for everything. I'm grateful for my health, and I'm so grateful for the love in my life," she tells People. "Because not everybody finds that. Not everybody finds that best friend."
"Portia and I constantly say to each other, 'We are so lucky.' Sometimes it's lying in bed at night before I go to sleep, and I just say thank you to whatever, whoever is out there," she adds. "I've gotten to a place where I really am just settled. Really. I know that I'm not going anywhere. She's not going anywhere. I'm not saying the relationship took a while; I'm saying in my life, it took a while to find this."
DeGeneres and de Rossi have been together since 2004. It is DeGeneres' third high profile relationship since coming out in 1997.
Full story:
Source: Ellen DeGeneres opens up on marriage to 'best friend' Portia de Rossi