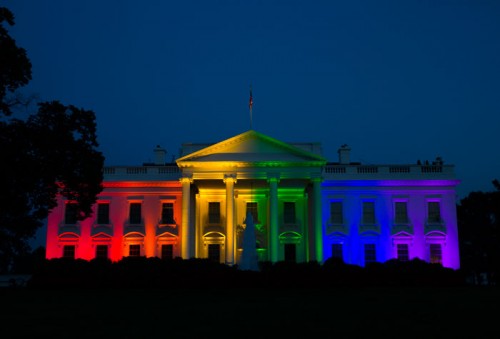 It was a new look for the White House: illuminated in rainbow colors to celebrate the Supreme Court decision allowing same-sex marriage nationwide.
President Barack Obama, who was inside, felt the glow on that June night in 2015.
"To see people gathered in the evening outside on a beautiful summer night, and to feel whole and to feel accepted, and to feel that they had a right to love — that was pretty cool," he said a few days later.
"Pretty cool." That might be a fair description of how Obama himself is viewed by legions of lesbian, gay, bisexual and transgender Americans who consider him — among all of the nation's presidents — the greatest champion of their rights and well-being.
The relationship was slow in developing.
Obama took office in 2009 as a self-described "fierce advocate" for gay rights, yet for much of his first term drew flak from impatient, skeptical activists who viewed him as too cautious, too politically expedient. They were frustrated he wouldn't endorse same-sex marriage — Obama cagily said he was "evolving" — and wanted him to move faster on several other issues. But the pace of Obama's actions steadily accelerated.
In December 2010, he signed legislation enabling gays and lesbians to serve openly in the military. In 2011, he directed government agencies to combat LGBT rights abuses internationally. By May 2012 — soon after Vice President Joe Biden set the example — Obama endorsed gay marriage.
His administration also stopped defending the Defense of Marriage Act, which denied federal recognition to same-sex couples. That move helped clear the way for the Supreme Court's historic same-sex marriage ruling in 2015.
In the nationwide marriage debate, Obama was not a pace-setter — a Gallup poll showed a majority of Americans supporting same-sex marriage a year before he did. But the president didn't pause at the stage; he continued throughout his two terms to find ways to support the LGBT community even when Congress was in partisan deadlock.
According to a tally by the Human Rights Campaign, Obama's administration has made more than 125 changes to regulations and policies to expand LGBT rights, and Obama appointed more than 250 openly LGBT people to federal positions, including 15 judicial appointments and nine high-level diplomatic posts.
Full story:
Source: Will Obama's greatest accomplishment be his record on LGBT rights?