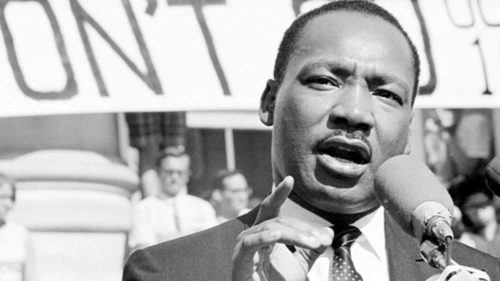 Martin Luther King Jr. Day 2017 will mark its 31st anniversary since it was first observed on January 20, 1986.
If he were alive today, King would be 88, and he would have seen that a lot has changed in the U.S. since that dark day he was gunned down on the balcony of the Lorraine Motel in Memphis by an assassin's bullet on April 4, 1968.
Since King's death, every struggling civil-rights group has affixed themselves to his passionate cause for justice.
The lesbian, gay, bisexual, transgender, and queer (LGBTQ) communities, in particular, have been reviled for not only naming our struggle as a civil-rights issue, but also for naming MLK as one of the civil-rights icons that would speak on our behalf.
But would King have spoken on our behalf?
As we celebrate MLK Day 2017, we no longer have to hold King up to a God-like standard. All the hagiographies written about King immediately following his assassination in the previous century have come under scrutiny as we come to understand all of King – his greatness as well as his flaws and human foibles.
As I comb through numerous books and essays learning more about King's philandering, sexist attitude about women at home and in the movement, and his relationship with [gay March on Washington organizer] Bayard Rustin, I am wondering would King be a public advocate for LGBTQ rights?
James Cone, father of Black Liberation Theology and author of a book and several articles on King, states that we must understand King within the historical context of the black church. And in so doing, I find it ironic that the public King we witnessed on a national stage talked vociferously about social justice and civil rights for all people yet his personal life did not reflect the same ethos concerning women and gays. And would the public King have spoken out on LGBTQ justice, risking his already-waning popularity with the African-American community and President Lyndon Johnson?
In the address I gave at the Gill Foundation's National Outgiving Conference in 2007, I said, "If Dr. Martin Luther King were standing up for LGBTQ rights today, the black community would drop him too."
King understood the interconnections of struggles. And an example of that understanding is when he said, "The revolution for human rights is opening up unhealthy areas in American life and permitting a new and wholesome healing to take place. Eventually the civil-rights movement will have contributed infinitely more to the nation than the eradication of racial justice."
This statement clearly includes LGBTQ justice, but would King have spoken on this subject at that time and even now?
King's now deceased wife says yes.
In 1998, Coretta Scott King addressed the LGBT group Lambda Legal in Chicago. In her speech, she said queer rights and civil rights were the same. "I appeal to everyone who believes in Martin Luther King's dream to make room at the table of brother and sisterhood for lesbian and gay people," she said.
But King's youngest and only living daughter, the Rev. Bernice King, thinks otherwise.
Full story:
Source: Did Martin Luther King Jr.'s dream include LGBTQ people too?