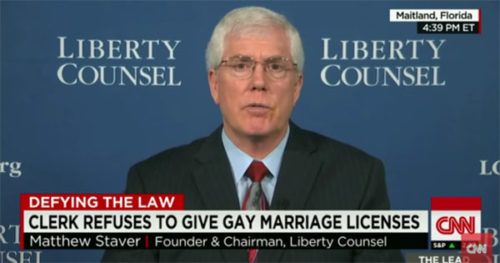 Screen grab, CNN
Liberty Counsel is pulling out all the stops to try to block the legally-enacted human rights ordinance approved last month by city leaders in Jacksonville, Fla., filing a lawsuit in Duval County Court Tuesday.
The plaintiff is an unknown figure named John Parsons, a local resident represented by Mat Staver and the conservative legal eagles who achieved fame as the lawyers for antigay Kentucky clerk Kim Davis, and for recently being scolded by the U.S. Supreme Court for misgendering  transgender student Gavin Grimm. 
As the right-wing Christian law firm did with "marriage," adding quotation marks around the word as if to question the legality of same-sex marriage, its news release announcing the suit refers to the HRO as "the so-called Jacksonville 'Human Rights Ordinance.'"
The HRO purports to add "sexual orientation" and "gender identity" as "protected categories" under Jacksonville law. As stated in the lawsuit, the authors and sponsors of the HRO intentionally omitted language required by state and local law "to deceive the Jacksonville public, City Council and Mayor as to the true contents and scope of the HRO. None of the twenty-eight (28) sections and subsections of the Jacksonville Ordinance Code purportedly amended by . . . the HRO are published in the HRO, either in whole or in part."

"The council members and activists who promoted the HRO told the public that the ordinance was different from the two prior versions that failed in 2012 and 2016—that it was 'simpler' and addressed the concerns of small businesses and religious organizations," said Roger Gannam, Liberty Counsel's Assistant Vice President of Legal Affairs. "But the truth is, this is the same bad ordinance that opens women's private facilities to men, coerces Christian business owners to violate their consciences, and does not solve any actual discrimination problem. The HRO proponents hid the truth with intentionally deceptive messaging and by flouting the rule of law," said Gannam.
The HRO was approved by a vote of 12 to 6 on February 14, and one hour later, Jacksonville Mayor Lenny Curry announced he would allow the measure to become law without his signature, as the Florida Times Union reported. Opponents vowed to fight it at the polls.
The law amended the city's existing discrimination protections to include LGBTQ people. Discrimination complaints will be investigated by the city's Human Rights Commission, and violations will be punishable by a $500 fine.
The law includes a provision that exempts small businesses with less than 15 employees from the ban on employment discrimination. It also exempts religious organizations from all of the discrimination prohibitions and the law has no new requirements regarding restroom usage.
You can read the lawsuit filed by Liberty Counsel on their website.
Source: Kim Davis' lawyer is fighting to overturn Jacksonville's human rights ordinance