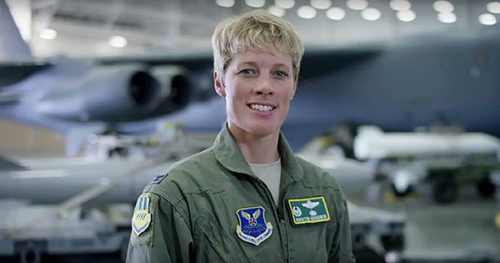 A scathing letter sent by Kayla Moore, wife of disgraced Alabama Supreme Court judge Roy Moore and president of a hate group, opposes the promotion of Col. Kristin Goodwin of the U.S. Air Force to brigadier general, a prelude to her anticipated nomination to be commandant of the Air Force Academy in Colo.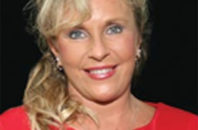 Foundation For Moral Law
And when you read the quotations for the letter, we strongly suggest you read it aloud in a vocally-flabbergasted, high-pitched, drawl that sounds like Aunt Bea from "The Andy Griffith Show."
The person responsible for the education of cadets at the academy is a role model and an exemplar of proper deportment and conduct. Col. Goodwin, as a lesbian who is 'married' to another woman, not only demeans the institution of marriage but contradicts the divine basis for marriage revealed in Scripture and evident in nature.

Because homosexual relationships are unnatural, they are incompatible with the basic structure of civil society and the historic antecedents of military order and discipline. By nominating an open lesbian who proclaims that she is married to another woman, the Department of Defense states its disregard for the fundamental moral order established by God, thus breaking trust with the millions of Christians who voted for the new president in hope that the ungodly policies of the previous administration would be repudiated.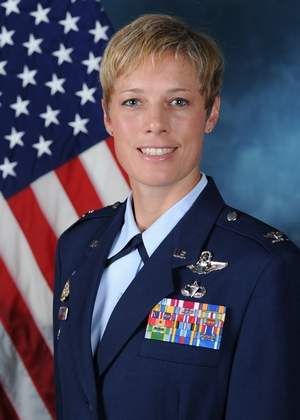 USAF
Moore, writing on behalf of the Foundation for Moral Law, which was founded in 2002 by her anti-LGBTQ husband, penned the open letter to Secretary of Defense Jim Mattis. She wrote that she "opposed this nomination because Col. Goodwin does not set a proper moral example for youth."
The presence in the armed forces of persons who demonstrate a propensity or intent to engage in homosexual acts would create an unacceptable risk to the high standards of morale, good order and discipline, and unit cohesion that are the essence of military capability.
The Air Force and Department of Defense appears to disagree, given Goodwin's appointment, the acceptance of openly serving gays, lesbians, bisexuals and transgender members of the armed services, and thus far, Sec. Mattis has not reversed that policy. As JoeMyGod reported, the Air Force has so much invested in Col. Goodwin it even created a YouTube video to aid in recruiting. 
Source: Roy Moore's hate group furious at nomination of lesbian to run Air Force Academy